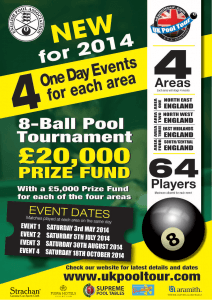 U.K. Pool Tours – One Day Events 2014 combines four separate areas, each of which will have four events on dates detailed below, all events are on a Saturday.
TOTAL PRIZE FUND £20,000 – £5,000 PRIZE FUND FOR EACH AREA. PRIZE MONIES AT EACH OF THE 4 ONE DAY EVENTS IN AN AREA
WINNER £500
RUNNER-UP  £250
SEMI-FINALIST  £130
QUARTERS  £60
Each of the four areas will be organised by a local event organiser and will have £1,250 for each of the 4 events – a total prize fund of £5,000 for each area. This annual event will have additional areas from 2015 onwards.
There will be two venues used in each area, all entrants will be notified of dates and venues for all of their four events, once final entry numbers are received.
For full information and enter form please click here AREA ONE – NORTH EAST, ENGLAND
AREA TWO – NORTH WEST, ENGLAND
AREA THREE – EAST MIDLANDS, ENGLAND
AREA FOUR – SOUTH/CENTRAL, ENGLAND