Lancs A get back to winning ways, while Lancs B continue.
October 2, 2013 in Intercounty, Mens Intercounty by Martin West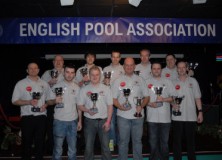 Lancashire A team got back to winning ways with what looked like a comfortable victory over GMC turning into a 24-20 close result.
Meanwhile, the Lancashire B Team continues their winning ways with 30-14 victory over GMC B.
Men's A Table

| | | | | | | | |
| --- | --- | --- | --- | --- | --- | --- | --- |
| Team | P | W | L | F | A | Dif | Pts |
|    1.Cheshire A | 7 | 6 | 0 | 176 | 132 | 44 | 19 |
|    2.Lancashire A | 7 | 5 | 1 | 177 | 131 | 46 | 16 |
|    3.Cumbria A | 7 | 3 | 4 | 153 | 155 | -2 | 9 |
|    4.Merseyside A | 7 | 2 | 4 | 143 | 165 | -22 | 7 |
|    5.GMC A | 7 | 2 | 5 | 141 | 167 | -26 | 6 |
|    6.West Yorkshire A | 7 | 1 | 5 | 134 | 174 | -40 | 4 |
Men's B Table

| | | | | | | | |
| --- | --- | --- | --- | --- | --- | --- | --- |
| Team | P | W | L | F | A | Dif | Pts |
|    1.Lancashire B | 7 | 5 | 1 | 173 | 135 | 38 | 16 |
|    2.West Yorkshire B | 7 | 5 | 2 | 170 | 138 | 32 | 15 |
|    3.Cheshire B | 7 | 4 | 2 | 167 | 141 | 26 | 13 |
|    4.GMC B | 7 | 3 | 2 | 163 | 143 | 20 | 11 |
|    5.Cumbria B | 7 | 2 | 5 | 140 | 168 | -28 | 6 |
|    6.Merseyside B | 7 | 0 | 7 | 109 | 197 | -88 | -2 (-2) |
| | | | | | | | | |
| --- | --- | --- | --- | --- | --- | --- | --- | --- |
| Pos | Name | Team | Appear | P | W | Pts | % | Adj |
|   1 |    Phil Malam(10000643) | Cheshire A | 100% (100%) | 28 | 21 | 63 | 75.00% | 9.00 |
|   2 |    Kris Hampson(10001212) | Lancashire A | 100% (100%) | 28 | 20 | 60 | 71.42% | 8.57 |
| |    Gareth Royds(10001106) | Lancashire A | 100% (100%) | 28 | 20 | 60 | 71.42% | 8.57 |
|   4 |    Mark Astbury(10001141) | GMC A | 100% (100%) | 28 | 19 | 57 | 67.85% | 8.14 |
| |    Adam Griffiths(10000693) | Cheshire A | 100% (100%) | 28 | 19 | 57 | 67.85% | 8.14 |
| |    Geoff Hadgett(10001293) | Lancashire A | 100% (100%) | 28 | 19 | 57 | 67.85% | 8.14 |
|   7 |    David Rawlinson(10000952) | GMC A | 100% (100%) | 28 | 18 | 54 | 64.28% | 7.71 |
| |    Dave Preece(10000648) | Cheshire A | 100% (100%) | 28 | 18 | 54 | 64.28% | 7.71 |
| |    Stu Gregory(10000609) | Cheshire A | 100% (100%) | 28 | 18 | 54 | 64.28% | 7.71 |
| |    David Martinson(10001537) | Merseyside A | 100% (100%) | 28 | 18 | 54 | 64.28% | 7.71 |
| |    Matthew Brannan(10000775) | Cumbria A | 100% (100%) | 28 | 18 | 54 | 64.28% | 7.71 |
|  12 |    Eric Webber(10000706) | Cheshire A | 100% (100%) | 28 | 20 | 53 | 71.42% | 7.57 |
|  13 |    Ian Harle(10001214) | Lancashire A | 100% (100%) | 28 | 18 | 51 | 64.28% | 7.28 |
|  14 |    James Brookens(10010336) | Lancashire A | 100% (100%) | 28 | 17 | 51 | 60.71% | 7.28 |
| |    Neil Armstrong(10009432) | Cumbria A | 100% (100%) | 28 | 17 | 51 | 60.71% | 7.28 |
|  16 |    Fred Backhouse(10000640) | Cheshire A | 85% (85%) | 24 | 16 | 48 | 66.66% | 6.85 |
|  17 |    Simon Malam(10000620) | Cheshire A | 100% (100%) | 28 | 16 | 48 | 57.14% | 6.85 |
| |    Mike Giles(10007418) | Lancashire A | 100% (100%) | 28 | 16 | 48 | 57.14% | 6.85 |
| |    Kevin Potts(10000786) | Cumbria A | 100% (100%) | 28 | 16 | 48 | 57.14% | 6.85 |
|  20 |    Ian Davenport(10001209) | Lancashire A | 85% (85%) | 24 | 15 | 45 | 62.50% | 6.42 |
|  21 |    Alan McLeod(10000783) | Cumbria A | 100% (100%) | 28 | 15 | 45 | 53.57% | 6.42 |
|  22 |    Andrew Grice(10007072) | West Yorkshire A | 100% (100%) | 28 | 16 | 43 | 57.14% | 6.14 |
|  23 |    Stefan Risidi(10009440) | West Yorkshire A | 85% (85%) | 22 | 16 | 42 | 72.72% | 6.00 |
|  24 |    Jamie Halstead(10007149) | West Yorkshire A | 100% (100%) | 28 | 16 | 42 | 57.14% | 6.00 |
|  25 |    Danny Byrne(10001613) | West Yorkshire A | 71% (71%) | 20 | 14 | 42 | 70.00% | 6.00 |
| |    Aaron Davies(10000904) | GMC A | 71% (71%) | 20 | 14 | 42 | 70.00% | 6.00 |
|  27 |    Anthony Brown(10009330) | Merseyside A | 85% (85%) | 24 | 14 | 42 | 58.33% | 6.00 |
| |    James Murphy(10001472) | Merseyside A | 85% (85%) | 24 | 14 | 42 | 58.33% | 6.00 |
|  29 |    Jamie Ridsdale(10001367) | Lancashire A | 100% (100%) | 28 | 14 | 42 | 50.00% | 6.00 |
| |    Ricky Taylor(10007431) | Cumbria A | 100% (100%) | 28 | 14 | 42 | 50.00% | 6.00 |
|  31 |    Paul McGuire(10001195) | Lancashire B | 100% (100%) | 28 | 14 | 40 | 50.00% | 5.71 |
|  32 |    Lee Briscoe(10001203) | Lancashire A | 100% (100%) | 28 | 14 | 39 | 50.00% | 5.57 |
|  33 |    Paul Taylor(10000940) | GMC A | 100% (100%) | 28 | 13 | 39 | 46.42% | 5.57 |
| |    Gareth Owen(10000916) | GMC A | 100% (100%) | 28 | 13 | 39 | 46.42% | 5.57 |
| |    Tim Roberts(10000624) | Cheshire A | 100% (100%) | 28 | 13 | 39 | 46.42% | 5.57 |
| |    Paul Kipling(10000780) | Cumbria A | 100% (100%) | 28 | 13 | 39 | 46.42% | 5.57 |
|  37 |    Steven Moores(10000656) | Cheshire A | 100% (100%) | 28 | 16 | 37 | 57.14% | 5.28 |
|  38 |    Kevin Armitage(10001580) | West Yorkshire B | 100% (100%) | 28 | 18 | 36 | 64.28% | 5.14 |
|  39 |    Luke Austin(10001189) | Lancashire A | 100% (100%) | 28 | 17 | 36 | 60.71% | 5.14 |
|  40 |    Carl Forrest(10007062) | West Yorkshire A | 100% (100%) | 24 | 15 | 36 | 62.50% | 5.14 |
| |    Richard Needham(10001652) | West Yorkshire A | 85% (85%) | 24 | 15 | 36 | 62.50% | 5.14 |
|  42 |    Andrew Coyne(10001146) | GMC A | 100% (100%) | 28 | 13 | 36 | 46.42% | 5.14 |
|  43 |    Scott Crawley(10000607) | Cheshire A | 85% (85%) | 24 | 12 | 36 | 50.00% | 5.14 |
| |    Gavin Simpson(10000810) | Cumbria A | 85% (85%) | 24 | 12 | 36 | 50.00% | 5.14 |
|  45 |    Michael Pine(10000985) | GMC A | 85% (85%) | 24 | 15 | 35 | 62.50% | 5.00 |
|  46 |    Lee Mellor(10000634) | Cheshire B | 100% (100%) | 26 | 17 | 34 | 65.38% | 4.85 |
|  47 |    Wayne Corless(10001265) | Lancashire B | 100% (100%) | 28 | 17 | 34 | 60.71% | 4.85 |
|  48 |    Dave Leslie Jnr(10000617) | Cheshire A | 100% (100%) | 28 | 15 | 34 | 53.57% | 4.85 |
|  49 |    Steven Mak(10001105) | GMC B | 100% (100%) | 28 | 13 | 34 | 46.42% | 4.85 |
|  50 |    Andy Moore(10000629) | Cheshire A | 71% (71%) | 20 | 11 | 33 | 55.00% | 4.71 |
| |    Adam Chorley(10001507) | Merseyside A | 71% (71%) | 20 | 11 | 33 | 55.00% | 4.71 |
|  52 |    David Greene(10001701) | West Yorkshire A | 100% (100%) | 28 | 11 | 33 | 39.28% | 4.71 |
|  53 |    Darren Jennings(10000651) | Cheshire A | 100% (100%) | 28 | 15 | 32 | 53.57% | 4.57 |
|  54 |    Stephen Witkiewicz(10000896) | GMC B | 85% (85%) | 24 | 14 | 32 | 58.33% | 4.57 |
|  55 |    Ian Davidson(10001096) | GMC A | 100% (100%) | 28 | 13 | 31 | 46.42% | 4.42 |
|  56 |    Ian Corless(10001208) | Lancashire B | 100% (100%) | 26 | 12 | 31 | 46.15% | 4.42 |
|  57 |    Andrew Mitchell(10010222) | West Yorkshire A | 71% (71%) | 20 | 11 | 30 | 55.00% | 4.28 |
|  58 |    Paul Molloy(10001649) | West Yorkshire A | 71% (71%) | 20 | 10 | 30 | 50.00% | 4.28 |
|  59 |    Carl Hardcastle(10009282) | West Yorkshire A | 100% (100%) | 28 | 10 | 30 | 35.71% | 4.28 |
| |    Mark Richardson(10010292) | Merseyside A | 100% (100%) | 28 | 10 | 30 | 35.71% | 4.28 |
|  61 |    Danny Nommik(10009279) | West Yorkshire A | 100% (100%) | 26 | 13 | 29 | 50.00% | 4.14 |
|  62 |    Matthew Evans(10000932) | GMC B | 100% (100%) | 28 | 10 | 29 | 35.71% | 4.14 |
|  63 |    Matthew Ramsden(10007148) | West Yorkshire B | 71% (71%) | 18 | 14 | 28 | 77.77% | 4.00 |
|  64 |    Carl Bromley(10001251) | Lancashire B | 100% (100%) | 20 | 14 | 28 | 70.00% | 4.00 |
|  65 |    Darren Smithies(10001065) | GMC B | 85% (85%) | 22 | 14 | 28 | 63.63% | 4.00 |
|  66 |    Nicky Hubert(10000727) | Cheshire B | 100% (100%) | 24 | 14 | 28 | 58.33% | 4.00 |
| |    Stephen O'Hagan(10000823) | Cumbria B | 85% (85%) | 24 | 14 | 28 | 58.33% | 4.00 |
|  68 |    Paul Birkett(10007340) | GMC A | 100% (100%) | 28 | 12 | 28 | 42.85% | 4.00 |
| |    Darren McGill(10001535) | Merseyside B | 100% (100%) | 28 | 12 | 28 | 42.85% | 4.00 |
|  70 |    Craig Hart(10007286) | Lancashire A | 57% (57%) | 14 | 11 | 28 | 78.57% | 4.00 |
|  71 |    Michael Boundy(10009316) | Merseyside A | 57% (57%) | 16 | 10 | 27 | 62.50% | 3.85 |
|  72 |    Andrew Brierley(10001612) | West Yorkshire B | 100% (100%) | 28 | 10 | 27 | 35.71% | 3.85 |
|  73 |    Phil Naylor(10001481) | Merseyside A | 71% (71%) | 20 | 9 | 27 | 45.00% | 3.85 |
|  74 |    Andrew Armistead(10000805) | Cumbria A | 85% (85%) | 22 | 9 | 27 | 40.90% | 3.85 |
|  75 |    Kevin Connop(10001489) | Merseyside A | 85% (85%) | 24 | 9 | 27 | 37.50% | 3.85 |
|  76 |    Gary Collingwood(10007399) | Cumbria B | 71% (71%) | 20 | 13 | 26 | 65.00% | 3.71 |
|  77 |    Chris Charnley(10001207) | Lancashire B | 100% (100%) | 22 | 13 | 26 | 59.09% | 3.71 |
|  78 |    Paul Ruddick(10007394) | Cumbria B | 85% (85%) | 23 | 13 | 26 | 56.52% | 3.71 |
|  79 |    Gary Greenwood(10001704) | West Yorkshire B | 85% (85%) | 24 | 12 | 26 | 50.00% | 3.71 |
|  80 |    Pat O'Mahoney(10001668) | West Yorkshire A | 100% (100%) | 24 | 12 | 25 | 50.00% | 3.57 |
|  81 |    Robert Neary(10001538) | Merseyside A | 57% (57%) | 16 | 10 | 25 | 62.50% | 3.57 |
|  82 |    Peter Southworth(10010360) | Cumbria B | 85% (85%) | 22 | 12 | 24 | 54.54% | 3.42 |
|  83 |    Harry Brown(10000712) | Cheshire B | 85% (85%) | 24 | 12 | 24 | 50.00% | 3.42 |
| |    Steve Whitlow(10000657) | Cheshire B | 100% (100%) | 24 | 12 | 24 | 50.00% | 3.42 |
|  85 |    Rashid Tunnacliffe(10001676) | West Yorkshire B | 100% (100%) | 25 | 12 | 24 | 48.00% | 3.42 |
|  86 |    Simon Herbert(10001646) | West Yorkshire B | 85% (85%) | 24 | 11 | 24 | 45.83% | 3.42 |
| |    Paul McEvoy(10001140) | GMC A | 85% (85%) | 24 | 11 | 24 | 45.83% | 3.42 |
|  88 |    Lewis Webber(10009291) | Cheshire B | 100% (100%) | 26 | 11 | 24 | 42.30% | 3.42 |
|  89 |    Edd Haslam(10000610) | Cheshire B | 85% (85%) | 24 | 9 | 24 | 37.50% | 3.42 |
|  90 |    John Harris(10000763) | West Yorkshire A | 71% (71%) | 20 | 8 | 24 | 40.00% | 3.42 |
| |    Ian Murphy(10007479) | Merseyside A | 71% (71%) | 20 | 8 | 24 | 40.00% | 3.42 |
|  92 |    Daniel Hancox(10000819) | Cumbria A | 85% (85%) | 22 | 8 | 24 | 36.36% | 3.42 |
|  93 |    Paul Burrow(10009442) | West Yorkshire B | 71% (71%) | 17 | 8 | 23 | 47.05% | 3.28 |
|  94 |    Martin Whitehead(10000627) | Cheshire B | 57% (57%) | 16 | 11 | 22 | 68.75% | 3.14 |
|  95 |    Jordan Berwick(10007484) | Cumbria B | 100% (100%) | 22 | 11 | 22 | 50.00% | 3.14 |
|  96 |    Ryan Cox(10000717) | Cheshire B | 85% (85%) | 23 | 11 | 22 | 47.82% | 3.14 |
|  97 |    Warren Clarke(10000929) | GMC B | 85% (85%) | 24 | 11 | 22 | 45.83% | 3.14 |
| |    Richard Sharkey(10007396) | Cumbria B | 100% (100%) | 24 | 11 | 22 | 45.83% | 3.14 |
|  99 |    Johnny Dean(10001210) | Lancashire B | 100% (100%) | 26 | 11 | 22 | 42.30% | 3.14 |
| 100 |    Michael Connor(10010290) | Merseyside B | 71% (71%) | 20 | 10 | 22 | 50.00% | 3.14 |
| 101 |    Lee Samuel(10010291) | Merseyside A | 71% (71%) | 20 | 9 | 22 | 45.00% | 3.14 |
| 102 |    Steve Lavin(10001173) | GMC B | 85% (85%) | 22 | 8 | 21 | 36.36% | 3.00 |
| 103 |    David Turley(10011543) | Cumbria A | 42% (42%) | 12 | 7 | 21 | 58.33% | 3.00 |
| 104 |    James Normile(10007473) | Merseyside A | 57% (57%) | 16 | 7 | 21 | 43.75% | 3.00 |
| 105 |    Billy Read(10000868) | Cumbria A | 85% (85%) | 22 | 7 | 21 | 31.81% | 3.00 |
| 106 |    Derek Patterson(10007205) | Lancashire B | 71% (71%) | 16 | 10 | 20 | 62.50% | 2.85 |
| 107 |    Will Cheung(10007345) | GMC B | 85% (85%) | 22 | 10 | 20 | 45.45% | 2.85 |
| 108 |    Jason Armour(10001671) | West Yorkshire B | 100% (100%) | 28 | 10 | 20 | 35.71% | 2.85 |
| 109 |    Craig Twentyman(10001101) | GMC B | 100% (100%) | 28 | 9 | 20 | 32.14% | 2.85 |
| 110 |    Martin Hunt(10001314) | GMC A | 42% (42%) | 12 | 8 | 19 | 66.66% | 2.71 |
| 111 |    Karl Clarke(10000970) | GMC B | 85% (85%) | 18 | 9 | 18 | 50.00% | 2.57 |
| |    Paul Blackburn(10001246) | Lancashire B | 100% (100%) | 18 | 9 | 18 | 50.00% | 2.57 |
| |    Kevin Calverley(10001206) | Lancashire B | 85% (85%) | 18 | 9 | 18 | 50.00% | 2.57 |
| |    Grant Massey(10001198) | Lancashire B | 85% (85%) | 18 | 9 | 18 | 50.00% | 2.57 |
| 115 |    Shaun Ayre(10010362) | Cumbria B | 71% (71%) | 20 | 9 | 18 | 45.00% | 2.57 |
| |    Ashley Lord(10001219) | Lancashire B | 85% (85%) | 20 | 9 | 18 | 45.00% | 2.57 |
| 117 |    Lee Doyle(10001627) | West Yorkshire B | 100% (100%) | 22 | 9 | 18 | 40.90% | 2.57 |
| 118 |    Garry Southern(10000789) | Cumbria A | 57% (57%) | 14 | 6 | 18 | 42.85% | 2.57 |
| 119 |    Geoff Geeson(10001550) | Merseyside B | 100% (100%) | 28 | 7 | 17 | 25.00% | 2.42 |
| 120 |    Ian Pattinson(10007390) | Cumbria B | 57% (57%) | 15 | 8 | 16 | 53.33% | 2.28 |
| 121 |    Vincent Moulin(10001072) | GMC B | 71% (71%) | 16 | 8 | 16 | 50.00% | 2.28 |
| 122 |    Andy Booth(10000716) | Cheshire B | 85% (85%) | 18 | 8 | 16 | 44.44% | 2.28 |
| |    Adrian Dugdale(10001281) | Lancashire B | 85% (85%) | 18 | 8 | 16 | 44.44% | 2.28 |
| 124 |    Mark Knowles(10000781) | Cumbria B | 100% (100%) | 19 | 8 | 16 | 42.10% | 2.28 |
| 125 |    Kevin Gauchwin(10001454) | Merseyside B | 85% (85%) | 22 | 8 | 16 | 36.36% | 2.28 |
| 126 |    Liam McGilton(10011466) | Merseyside A | 28% (28%) | 8 | 5 | 15 | 62.50% | 2.14 |
| 127 |    John Bush(10001079) | GMC B | 42% (42%) | 12 | 7 | 14 | 58.33% | 2.00 |
| 128 |    David Hine(10000660) | Cheshire B | 71% (71%) | 13 | 7 | 14 | 53.84% | 2.00 |
| 129 |    Glen Littlemoor(10000619) | Cheshire B | 71% (71%) | 14 | 7 | 14 | 50.00% | 2.00 |
| |    Geoff Harrison(10001300) | Lancashire B | 57% (57%) | 14 | 7 | 14 | 50.00% | 2.00 |
| 131 |    Graeme Bannister(10009379) | Merseyside B | 57% (57%) | 15 | 7 | 14 | 46.66% | 2.00 |
| 132 |    Carl Gordon(10007433) | Cumbria B | 57% (57%) | 16 | 7 | 14 | 43.75% | 2.00 |
| 133 |    Stuart Wilson(10001716) | West Yorkshire B | 100% (100%) | 20 | 7 | 14 | 35.00% | 2.00 |
| |    Carl Ritson(10001556) | Merseyside B | 71% (71%) | 20 | 7 | 14 | 35.00% | 2.00 |
| 135 |    Andrew Harrison(10007434) | Cumbria B | 100% (100%) | 22 | 7 | 14 | 31.81% | 2.00 |
| 136 |    Richard Kirkham(10000809) | Cumbria B | 28% (28%) | 8 | 6 | 14 | 75.00% | 2.00 |
| 137 |    Brad Rawlinson(10000951) | GMC B | 42% (42%) | 12 | 6 | 13 | 50.00% | 1.85 |
| 138 |    James Burgin(10009366) | Merseyside B | 57% (57%) | 14 | 6 | 13 | 42.85% | 1.85 |
| |    Carl Horsfield(10007410) | GMC B | 57% (57%) | 14 | 6 | 13 | 42.85% | 1.85 |
| 140 |    Damian Milnes(10007268) | Lancashire B | 42% (42%) | 6 | 5 | 13 | 83.33% | 1.85 |
| 141 |    Chris Hatton(10009420) | Lancashire B | 28% (28%) | 6 | 6 | 12 | 100.00% | 1.71 |
| 142 |    Steven Almond(10001231) | Lancashire B | 85% (85%) | 14 | 6 | 12 | 42.85% | 1.71 |
| 143 |    Tim Wilson(10007392) | Cumbria A | 28% (28%) | 8 | 4 | 12 | 50.00% | 1.71 |
| |    Sam Hirst(10001615) | West Yorkshire A | 28% (28%) | 8 | 4 | 12 | 50.00% | 1.71 |
| |    Ian Brooksbank(10001641) | West Yorkshire A | 28% (28%) | 8 | 4 | 12 | 50.00% | 1.71 |
| 146 |    Ian McMullan(10000992) | GMC B | 42% (42%) | 8 | 5 | 10 | 62.50% | 1.42 |
| 147 |    Kevin Farish(10007432) | Cumbria B | 42% (42%) | 11 | 5 | 10 | 45.45% | 1.42 |
| 148 |    Dean Hulme(10007463) | Merseyside B | 57% (57%) | 12 | 5 | 10 | 41.66% | 1.42 |
| 149 |    Andy Smithies(10001084) | GMC B | 57% (57%) | 13 | 5 | 10 | 38.46% | 1.42 |
| |    James Watts(10000626) | Cheshire B | 71% (71%) | 13 | 5 | 10 | 38.46% | 1.42 |
| 151 |    Darren Smithson(10007057) | West Yorkshire B | 57% (57%) | 14 | 5 | 10 | 35.71% | 1.42 |
| |    Adrian Astley(10001234) | Lancashire B | 100% (100%) | 14 | 5 | 10 | 35.71% | 1.42 |
| 153 |    Jonathan Townsend(10001616) | West Yorkshire B | 100% (100%) | 17 | 5 | 10 | 29.41% | 1.42 |
| 154 |    Chris Harris(10001527) | Merseyside B | 71% (71%) | 19 | 5 | 10 | 26.31% | 1.42 |
| 155 |    Gary Frederick(10001066) | GMC A | 14% (14%) | 4 | 3 | 9 | 75.00% | 1.28 |
| |    Daniel McBrias(10011464) | Merseyside A | 14% (14%) | 4 | 3 | 9 | 75.00% | 1.28 |
| 157 |    Kevin Kirkham(10000797) | Cumbria A | 28% (28%) | 8 | 3 | 9 | 37.50% | 1.28 |
| |    Neal Palmer(10001461) | Merseyside A | 28% (28%) | 8 | 3 | 9 | 37.50% | 1.28 |
| 159 |    Craig Dodd(10001280) | Lancashire B | 28% (28%) | 6 | 4 | 8 | 66.66% | 1.14 |
| 160 |    Ashley Gavin(10007108) | West Yorkshire B | 28% (28%) | 8 | 4 | 8 | 50.00% | 1.14 |
| |    Ian Stranack(10009475) | GMC B | 42% (42%) | 8 | 4 | 8 | 50.00% | 1.14 |
| 162 |    Tom Snape(10000690) | Cheshire B | 57% (57%) | 9 | 4 | 8 | 44.44% | 1.14 |
| 163 |    Billy Rimmer(10001545) | Merseyside B | 42% (42%) | 12 | 4 | 8 | 33.33% | 1.14 |
| |    Stephen Crosbie(10001456) | Merseyside B | 42% (42%) | 12 | 4 | 8 | 33.33% | 1.14 |
| 165 |    Steven George(10011456) | Merseyside B | 85% (85%) | 16 | 4 | 8 | 25.00% | 1.14 |
| 166 |    John Clarke(10009369) | Merseyside B | 14% (14%) | 4 | 3 | 6 | 75.00% | 0.85 |
| |    Andrew Christie(10007429) | Cumbria B | 14% (14%) | 4 | 3 | 6 | 75.00% | 0.85 |
| |    Mark Pemberton(10001067) | GMC B | 14% (14%) | 4 | 3 | 6 | 75.00% | 0.85 |
| 169 |    Robbie McKenzie(10011544) | Cumbria B | 28% (28%) | 6 | 3 | 6 | 50.00% | 0.85 |
| |    Billy Ledwards(10000615) | Cheshire B | 42% (42%) | 6 | 3 | 6 | 50.00% | 0.85 |
| |    Paul Stevens(10001130) | GMC B | 28% (28%) | 6 | 3 | 6 | 50.00% | 0.85 |
| 172 |    Christopher O'Hare(10007451) | Merseyside B | 28% (28%) | 8 | 3 | 6 | 37.50% | 0.85 |
| 173 |    Dean Adams(10010353) | Cumbria B | 57% (57%) | 9 | 3 | 6 | 33.33% | 0.85 |
| 174 |    Jon Binding(10011545) | Cumbria A | 14% (14%) | 4 | 2 | 6 | 50.00% | 0.85 |
| |    Paul Wood(10000928) | GMC A | 14% (14%) | 4 | 2 | 6 | 50.00% | 0.85 |
| 176 |    Terry Orr(10001520) | Merseyside A | 28% (28%) | 7 | 2 | 6 | 28.57% | 0.85 |
| 177 |    Rob Kelly(10001491) | Merseyside A | 28% (28%) | 8 | 2 | 6 | 25.00% | 0.85 |
| |    Ian Crosbie(10001530) | Merseyside A | 28% (28%) | 8 | 2 | 6 | 25.00% | 0.85 |
| 179 |    Jamie Alexander(10009332) | Merseyside B | 14% (14%) | 4 | 2 | 4 | 50.00% | 0.57 |
| |    Carl Tierney(10009363) | Merseyside B | 14% (14%) | 4 | 2 | 4 | 50.00% | 0.57 |
| |    Robert Coulthard(10000729) | Cheshire B | 28% (28%) | 4 | 2 | 4 | 50.00% | 0.57 |
| |    Anthony Duffy(10001490) | Merseyside B | 14% (14%) | 4 | 2 | 4 | 50.00% | 0.57 |
| |    Shaun Byrne(10007455) | Merseyside B | 14% (14%) | 4 | 2 | 4 | 50.00% | 0.57 |
| |    Connor Vaudrey(10001573) | Merseyside B | 14% (14%) | 4 | 2 | 4 | 50.00% | 0.57 |
| |    Damian Gauchwin(10001542) | Merseyside B | 14% (14%) | 4 | 2 | 4 | 50.00% | 0.57 |
| 186 |    Stephen Knights(10001636) | West Yorkshire B | 28% (28%) | 5 | 2 | 4 | 40.00% | 0.57 |
| |    Martin Smith(10011519) | GMC B | 28% (28%) | 5 | 2 | 4 | 40.00% | 0.57 |
| |    Chris Gorman(10009361) | Merseyside B | 28% (28%) | 5 | 2 | 4 | 40.00% | 0.57 |
| 189 |    Ryan Mandale(10000871) | Cumbria B | 28% (28%) | 6 | 2 | 4 | 33.33% | 0.57 |
| |    Greg Hulse(10009455) | GMC B | 28% (28%) | 6 | 2 | 4 | 33.33% | 0.57 |
| |    Jack Ashcroft(10007089) | West Yorkshire B | 28% (28%) | 6 | 2 | 4 | 33.33% | 0.57 |
| 192 |    John King(10011465) | Merseyside B | 71% (71%) | 12 | 2 | 4 | 16.66% | 0.57 |
| |    Andrew Bell(10007391) | Cumbria B | 57% (57%) | 12 | 2 | 4 | 16.66% | 0.57 |
| 194 |    John Tompkins(10000798) | Cumbria B | 14% (14%) | 1 | 1 | 2 | 100.00% | 0.28 |
| 195 |    Steve Turner(10007393) | Cumbria B | 14% (14%) | 2 | 1 | 2 | 50.00% | 0.28 |
| |    Martin Pennington(10001196) | GMC B | 14% (14%) | 2 | 1 | 2 | 50.00% | 0.28 |
| |    Robert Gregg(10000808) | Cumbria B | 28% (28%) | 2 | 1 | 2 | 50.00% | 0.28 |
| 198 |    Sean Johnston(10010339) | Cumbria B | 14% (14%) | 3 | 1 | 2 | 33.33% | 0.28 |
| 199 |    Andy Massingham(10011457) | Merseyside B | 14% (14%) | 4 | 1 | 2 | 25.00% | 0.28 |
| |    Brian Jackson(10001553) | Merseyside B | 14% (14%) | 4 | 1 | 2 | 25.00% | 0.28 |
| |    Stuart McGill(10001536) | Merseyside B | 14% (14%) | 4 | 1 | 2 | 25.00% | 0.28 |
| 202 |    Chris D'Leny(10009269) | Cumbria B | 28% (28%) | 5 | 1 | 2 | 20.00% | 0.28 |
| 203 |    Derek Hornby(10011474) | Merseyside B | 28% (28%) | 6 | 1 | 2 | 16.66% | 0.28 |
| |    John Barkett(10010305) | Lancashire B | 42% (42%) | 6 | 1 | 2 | 16.66% | 0.28 |
| 205 |    Chris White(10001494) | Merseyside B | 28% (28%) | 8 | 1 | 2 | 12.50% | 0.28 |
| 206 |    Keith Hiscocks(10001589) | West Yorkshire B | 28% (28%) | 0 | 0 | 0 | 0.00% | 0.00 |
| |    Stephen Mills(10000913) | GMC B | 14% (14%) | 0 | 0 | 0 | 0.00% | 0.00 |
| 208 |    Paul Rimmer(10011484) | Merseyside B | 14% (14%) | 1 | 0 | 0 | 0.00% | 0.00 |
| |    David Nicol(10007397) | Cumbria B | 14% (14%) | 1 | 0 | 0 | 0.00% | 0.00 |
| 210 |    Paul Massingham(10009327) | Merseyside B | 14% (14%) | 2 | 0 | 0 | 0.00% | 0.00 |
| |    Lee Braddock(10001098) | GMC B | 14% (14%) | 2 | 0 | 0 | 0.00% | 0.00 |
| |    Dave Robinson(10001370) | Lancashire B | 28% (28%) | 2 | 0 | 0 | 0.00% | 0.00 |
| |    Dave Smith(10000826) | Cumbria B | 28% (28%) | 2 | 0 | 0 | 0.00% | 0.00 |
| |    Kelvin Wharton(10000869) | Cumbria B | 14% (14%) | 2 | 0 | 0 | 0.00% | 0.00 |
| |    Mike Walker(10000790) | Cumbria B | 14% (14%) | 2 | 0 | 0 | 0.00% | 0.00 |
| 216 |    Gary Wallace(10011467) | Merseyside B | 14% (14%) | 3 | 0 | 0 | 0.00% | 0.00 |
| |    Alan Kirkham(10000878) | Cumbria B | 14% (14%) | 3 | 0 | 0 | 0.00% | 0.00 |
| 218 |    Darren Rimmer(10007477) | Merseyside B | 14% (14%) | 4 | 0 | 0 | 0.00% | 0.00 |
| |    Mohammed Ayub(10007082) | West Yorkshire B | 14% (14%) | 4 | 0 | 0 | 0.00% | 0.00 |
| |    Kevin Lloyd(10000642) | Cheshire B | 85% (85%) | 4 | 0 | 0 | 0.00% | 0.00 |
| 221 |    Russell Samuel(10007386) | Cumbria B | 42% (42%) | 6 | 0 | 0 | 0.00% | 0.00 |