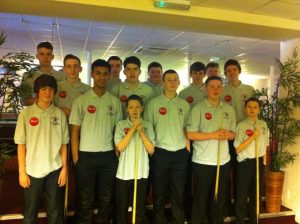 2 more victories for Lancashire Youth secured an undefeated position at the top of Region 2 Youth table, with a 26-18 Victory against home team West Yorkshire, joining an earlier 27-17 victory over Merseyside.
In addition, despite his first frame defeat against West Yorkshire's Danny Magee, Sam Leeming hit top spot in the National youth rankings. Sam has now won 15 of his 16 frames this season.
Sam continued his good form by finishing Runner up in the National U16's Grand Prix, with Murad Iqbal also getting to the semi-finals. Well Played lads.
Lancashire Youth's next match is Merseyside again but this time on Merseyside tables on 20th October.
Table (8/9/13)

| | | | | | | | |
| --- | --- | --- | --- | --- | --- | --- | --- |
| Team | P | W | L | F | A | Dif | Pts |
|    1.Lancashire | 4 | 3 | 0 | 110 | 66 | 44 | 10 |
|    2.West Yorkshire | 4 | 2 | 2 | 77 | 99 | -22 | 6 |
|    3.GMC | 3 | 1 | 1 | 73 | 59 | 14 | 4 |
|    4.Merseyside | 3 | 0 | 3 | 48 | 84 | -36 | 0 |
Region 2 Youth Rankings
| | | | | | | | |
| --- | --- | --- | --- | --- | --- | --- | --- |
| Pos | Name | Team | Appear | P | W | Pts | % |
|  1 |    Sam Leeming(10001411) | Lancashire | 100% | 16 | 15 | 30 | 93.75% |
|  2 |    Aaron Cooper(10007188) | Lancashire | 100% | 16 | 12 | 24 | 75.00% |
| |    Andrew Morley(10007192) | Lancashire | 100% | 16 | 12 | 24 | 75.00% |
|  4 |    Harry Bruce(10007100) | West Yorkshire | 100% | 16 | 11 | 22 | 68.75% |
| |    Murad Iqbal(10007258) | Lancashire | 100% | 16 | 11 | 22 | 68.75% |
|  6 |    Nathan Prescott(10007048) | GMC | 100% | 12 | 10 | 20 | 83.33% |
| |    Danny Thomas(10007406) | GMC | 100% | 12 | 10 | 20 | 83.33% |
| |    Owain Harrison(10007225) | GMC | 100% | 12 | 10 | 20 | 83.33% |
|  9 |    Thomas Rukin(10007098) | West Yorkshire | 100% | 13 | 10 | 20 | 76.92% |
| 10 |    Alex Bishop(10007154) | West Yorkshire | 100% | 16 | 9 | 18 | 56.25% |
| |    Jordan Johnson(10007190) | Lancashire | 100% | 16 | 9 | 18 | 56.25% |
| |    Jordan Balmbra(10001447) | Lancashire | 100% | 16 | 9 | 18 | 56.25% |
| 13 |    Mark Williams(10001163) | GMC | 100% | 12 | 8 | 16 | 66.66% |
| |    Daniel McBrias(10011464) | Merseyside | 100% | 12 | 8 | 16 | 66.66% |
| 15 |    Jordan Crossey(10010333) | Lancashire | 100% | 14 | 8 | 16 | 57.14% |
| 16 |    Danny Magee(10007093) | West Yorkshire | 100% | 15 | 8 | 16 | 53.33% |
| |    Michael Chippendale(10001420) | Lancashire | 100% | 15 | 8 | 16 | 53.33% |
| 18 |    Liam Eeles(10001674) | West Yorkshire | 100% | 16 | 8 | 16 | 50.00% |
| 19 |    Ryan Davies(10001152) | GMC | 100% | 12 | 7 | 14 | 58.33% |
| 20 |    Kieran Nicholl(10000740) | West Yorkshire | 100% | 16 | 7 | 14 | 43.75% |
| 21 |    Owen Rossall(10007251) | Lancashire | 50% | 8 | 6 | 12 | 75.00% |
| 22 |    Sean Devereux-Kelly(10001148) | GMC | 100% | 12 | 6 | 12 | 50.00% |
| |    James Whittaker(10009367) | Merseyside | 100% | 12 | 6 | 12 | 50.00% |
| 24 |    James Leather(10009351) | West Yorkshire | 100% | 14 | 6 | 12 | 42.85% |
| 25 |    John Cairns(10010335) | Lancashire | 100% | 7 | 5 | 10 | 71.42% |
| 26 |    Jonathan Haslam(10009341) | Lancashire | 50% | 8 | 5 | 10 | 62.50% |
| |    Mitchell McJay(10010280) | GMC | 66% | 8 | 5 | 10 | 62.50% |
| |    Kobi Mates(10009331) | Merseyside | 66% | 8 | 5 | 10 | 62.50% |
| 29 |    Daniel Kay(10001150) | GMC | 100% | 12 | 5 | 10 | 41.66% |
| |    Connor Vaudrey(10001573) | Merseyside | 100% | 12 | 5 | 10 | 41.66% |
| |    Lewis Massingham(10007467) | Merseyside | 100% | 12 | 5 | 10 | 41.66% |
| 32 |    Kieran Adair(10007199) | Lancashire | 100% | 13 | 5 | 10 | 38.46% |
| 33 |    Callum Hewitt(10007405) | GMC | 100% | 8 | 4 | 8 | 50.00% |
| 34 |    Christopher O'Hare(10007451) | Merseyside | 100% | 12 | 4 | 8 | 33.33% |
| 35 |    John Rourke(10007097) | West Yorkshire | 100% | 13 | 4 | 8 | 30.76% |
| 36 |    B.J. Hoult(10007095) | West Yorkshire | 100% | 14 | 4 | 8 | 28.57% |
| 37 |    Olivia Sykes(10007113) | West Yorkshire | 100% | 15 | 4 | 8 | 26.66% |
| 38 |    Ben Weatherall(10010392) | West Yorkshire | 50% | 8 | 3 | 6 | 37.50% |
| 39 |    Adam Royle(10010207) | Lancashire | 100% | 9 | 3 | 6 | 33.33% |
| 40 |    Elliot Ogden(10009384) | GMC | 100% | 10 | 3 | 6 | 30.00% |
| 41 |    Sean Haake(10007370) | Merseyside | 100% | 11 | 3 | 6 | 27.27% |
| 42 |    Sam Bowers(10009394) | GMC | 100% | 12 | 3 | 6 | 25.00% |
| |    Shaun Byrne(10007455) | Merseyside | 100% | 12 | 3 | 6 | 25.00% |
| 44 |    James Evans(10007458) | Merseyside | 66% | 4 | 2 | 4 | 50.00% |
| 45 |    Adam Pendlebury(10010334) | Lancashire | 50% | 5 | 2 | 4 | 40.00% |
| 46 |    Kieran Sudlow(10010281) | GMC | 66% | 6 | 2 | 4 | 33.33% |
| 47 |    Keiron Semmens(10009318) | Merseyside | 66% | 8 | 2 | 4 | 25.00% |
| |    Matthew Evans(10011454) | Merseyside | 66% | 8 | 2 | 4 | 25.00% |
| 49 |    Owen Percy(10007454) | Merseyside | 100% | 10 | 2 | 4 | 20.00% |
| 50 |    Alfie Bruce(10010393) | West Yorkshire | 50% | 4 | 1 | 2 | 25.00% |
| 51 |    Ryan Hanley(10010391) | West Yorkshire | 50% | 5 | 1 | 2 | 20.00% |
| 52 |    Sam Best(10011487) | West Yorkshire | 50% | 8 | 1 | 2 | 12.50% |
| |    Matthew Walthew(10007461) | Merseyside | 100% | 8 | 1 | 2 | 12.50% |
| 54 |    Dylan Crossey(10010332) | Lancashire | 50% | 1 | 0 | 0 | 0.00% |
| 55 |    Connor Smith(10010394) | West Yorkshire | 50% | 3 | 0 | 0 | 0.00% |