Lancashire's very own Danyal Hussain has achieved his ambition of becoming the WEPF World Junior Champion at Imperial Hotel, Blackpool this morning (28th June). He completed his remarkable tournament with an 8-4 win against Northern Ireland's Lee McCutcheon.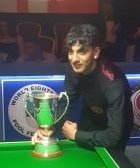 Following late matches last night on Thursday, Great-Harwood's Danny started at 9 am this morning. The audience seemed to have the whole of Lancashire backing him.
Follow the whole match again at EPA Youtube Channel
Spoiler Alert – Match Review
The first frame, a technical one, went to the Northern Ireland youngster. But Danny took the next to level things up. Danny then took the lead 2-1 with some great examples of call control.
Lee then came right back to take the fifth frame. And Danny came right back at him to take the 6th. The Irish youngster took the 7th, following a foul snooker call. This let him clear Danny's ball from the pocket and clear his last balls to go 3-4 up.
Following the cue ball went in off the break, the McCutcheon started the 8th frame well, clearing the yellows. The black though was difficult and an attempt to double to the middle came back of the jaw. A successful snooker from Danny leads to 2 visits for a clearance…. But he only needs the one to pull back to 4 all.
Boom – He's up for it now
This definitely gave the Lancashire lad some confidence. The next frame he dishes all 7 of his balls and the black, following Lee's dry break.
The 10th started for Danny with a nice break which opened the balls well. This lead to the first break-dish of the match. This was his second dish in a row, again with great ball control of distance. The first time either player lead by 2 frames.
An in-off by McCutcheon let the confident Danny in again. But a rattle on the black to the middle stops him making it 3 dishes in a row. But it was only a temporary blip as he took the black easily on his next visit.
The new WEPF World Junior Champion
Danny breaks on the 12th, and pots a red. Nothing is stopping him now. Another break dish gives Danny the 2019 World Junior Champion title and there is nothing Lee could do about it.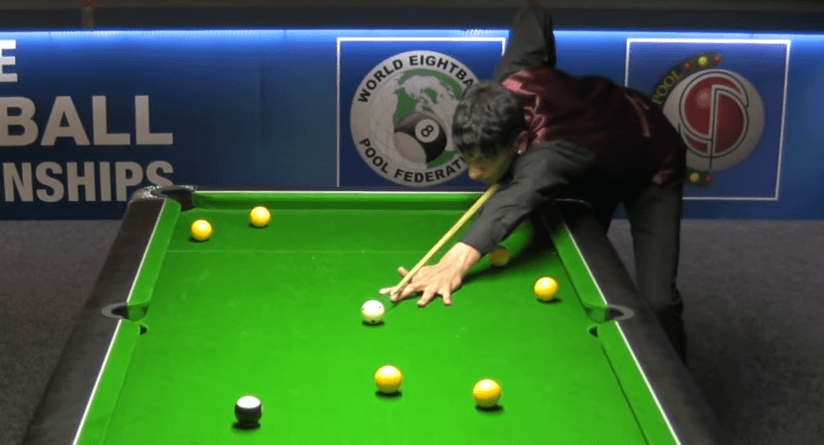 With the last 4 frames taking just 18 minutes, it clearly shows confidence is a major player in this game – as long as you have the cue ball on an invisible piece of string. His ball control, all match, was simply magical.