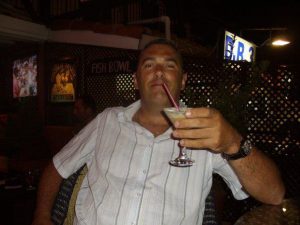 As I'm sure you will all know by now Mark Ashton one of our Senior players lost his brave fight against cancer on Friday night.
Mark was a special friend. One of own who played League, Interleague and County and we'd be really surprised if there is anyone here who didn't know him or hasn't met him at some time.
Since Mark's diagnosis with Bowel Cancer, Alison & Ian have been close to his unwelcome journey. It's been a pretty tough ride, we've shed the odd tear along the way when he's had bad news, but we also had a lot of laughs.
To his credit Mark stayed very positive throughout, the same as he played his pool & we know he wouldn't have had it any other way. Now Mark liked the odd wind up & in his last few weeks, he would often tell me that at the first sign of any conflict or really boring conversation with visitors, he'd say "it's okay, I'll just pull a sicky, turn over & let them get on with it". Typical Mark; always liked a laugh & a joke.
That should be the way we all remember Mark. Of course there's sorrow, but he would have hated it. He'd rather everyone got on and had a good time. A Star Man, in more ways than one. I'm sure you all agree…
As an organisation, we also send our sincere condolences to Marks mum & dad, close family and friends.
---
Peter & Ann Ashton, Mark's parents, have asked me to let his friends from our pool community know, that Mark's funeral has been arranged to take place on Tuesday 23rd August at 3.00 pm. & will take place at Accrington Crematorium – Burnley Road, Accrington, BB5 6HA…
They have said it would be a fitting tribute for anyone going to wear their team polo shirts. LCPA would therefore suggest wearing county, Inter league or your local pub team tops…
Peter & Ann thank everyone for their kind messages